4 Free Help Desk Documentation Templates To Streamline Your Support Process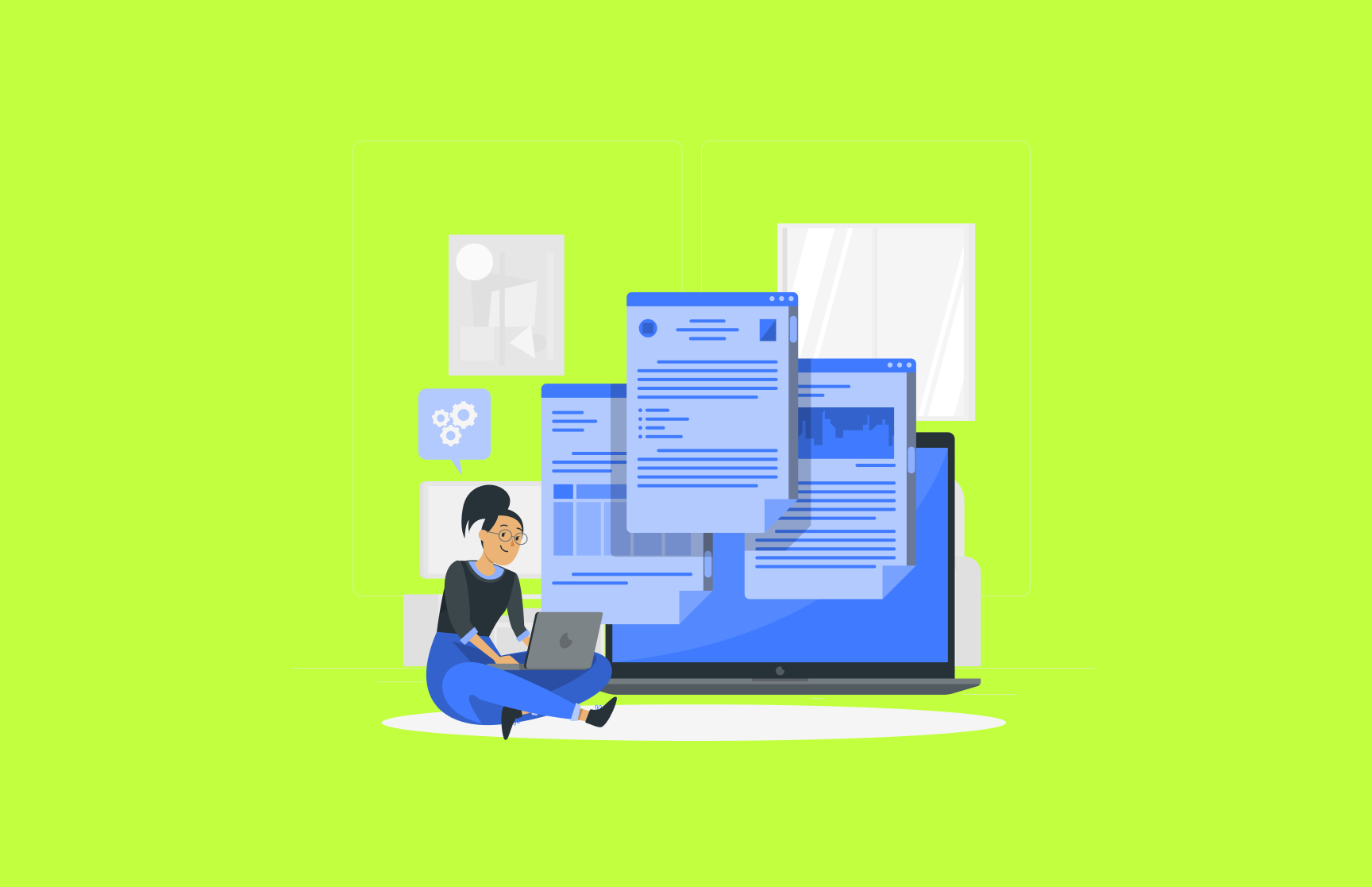 Do you get an influx of emails and tweets from customers who need help? Is it causing your user experience to become sloppy? Maybe it's time to ditch the never-ending email chains and allow us to introduce you to help desk software.
Smooth-running operations, a streamlined service, and lots of happy customers. It sounds like a dream, doesn't it? You can make it your reality with a help desk. It will make life easier for you, your customers, and your employees.
How does a help desk work?
The software product is what customer support teams use to maintain operating procedures. Unlike service desks, a help desk primarily solves the problems of end-users, who are the people who use or are intended to use your product or service.
You'll use a centralized customer service team to handle things that get a bit complex. The software will sort support tickets logically so they can be managed as quickly as possible. But how does the process work?
All communication comes to one place: your help desk.
Apps can be integrated to increase efficiency.
You never have to worry about checking every platform in case you miss requests.
Team members can work on support tickets as they get generated and routed.
This process can be automated, which saves time and keeps standards high.
Types of help desks
A help desk is as useful to employees as it is to the customer. Your documents need the right tone, and to figure this out you need to examine the types you could work with.
IT support help desk. Your IT service supports your business internally with issues that relate to staff. If you couldn't get onto the pesky WIFI, this is where you would turn to.
Customer service help desk. These deal with problems users have with your product, service, or company itself.
We're going to look at the second, and here's why. A help desk is a bridge from users to your company. Therefore, it's crucial to build it with solid materials and a strong foundation. We will show you exactly how these company assets can form the bricks of your support process.
Documentation
User documentation is for customers only. But have you thought about how your employees might utilize it? It goes hand-in-hand with your support team to give them what they need to provide cohesive and constant customer service. To get it right, they need the resources.
It's good practice to know exactly what you can utilize before you decide what you need. So, let's discuss the function of documentation:
Teach through reference points. Writing down the solution when a problem first occurs makes troubleshooting much faster in the long run. Employees can look it up when they need to. And new hires can get up to speed quickly.
Give customers what they want. Information being readily available means your help desk can be self-service. 67% of users said they prefer serving themselves over speaking to support staff. An additional 75% of people called it convenient.
Showcase your authority. Customers can see your value in the quality of your product or service, but they want to see how you compare with competitors. Help desk operations and the knowledge base within tell them that you mean business.
For ultimate functionality, your documentation must also be easy to navigate and streamlined. You want to get to the point quickly because customers don't need a lot of fluff. Our free templates below will walk you through how to achieve this. Good job they're there, right?
1. Standard operating system template
To produce a system that isn't subject to interpretation or human error you need a harmonious workplace. This won't sound like an easy task, especially if you run a large organization, but that's where your standard operating procedures, or SOPs, come in. They are essentially the documentation of your company processes.
When working on SOPs, you want to include detailed instructions: an expectation of standards, worth-knowing processes, and general company information. This documentation is best in a knowledge base so you can check it out no matter your role.
You'll find the benefits come and slap you in the face, but we'll give you an overview before you start. Consider it a little motivation.
(Ideally) prevents any huge mistakes.
Reduces the likelihood of tickets being unsolved.
Make onboarding quicker.
Bring clarity to your company's mission, goals, and purpose.
Low employee turnover.
You'll want your SOPs documentation to be easy to understand. It doesn't matter if a CEO or new hire is reading it; they should be on the same page when they're done. It should be easy to update when necessary. This goes without saying, but it should also be clear.
Template
Topic: [Summary of what the documentation is referencing. Add keywords here.]
Purpose: [Give context. Why is this the way of doing things and why is it important.]
Definitions: [Any jargon or other terms that are relevant to the topic?]
Definition 1:
Definition 2:
Definition 3:
And continue.
Expectations: [Is there anything an employee needs to know before they act?]
Responsibilities: [Can any employee act on this procedure? Do they need to be authorized or signed off?]
Related Sources: [Anything in your knowledge base, links, or case studies that give further understanding.]
Link 1:
Link 2:
Link 3:
And continue.
Procedure: [How an employee should approach the situation in a way that aligns with company standards.]
Step 1:
Step 2:
Step 3:
And continue.
Back-Up Procedure: [If things don't go according to plan, what does the employee need to do?]
Relevant Authority: [If an employee has a question or the situation needs to be taken further, this is the person to contact. Include their details here.]
Authority B: In the case of authority A being N/A.
Authority C: In the case of authority B being N/A.
Further Questions: [Offer a point of contact or link to something in your internal knowledge base.]
2. Help desk ticket template
We've touched on the ticketing system before, but why is it important? By turning customer complaints or questions into tickets, everything is put in the same place, no matter where its source is. The software tracks the ticket's journey and conversations between the employee and the user. Imagine everything is presented neatly in a list. You can:
Estimate how long it'll take to work through.
Highlight what you need to prioritize.
Assign the correct number of employees to sort through them.
Gain insights into your customer satisfaction with the data from tickets.
Your help desk ticketing system should be clear and well-structured. Your documentation should reflect this. You'll want to categorize support requests, allowing them to move between your team. In order to do this, your summaries need to describe exactly what is going on.
Support notes need to be thorough because quick responses, routing, and issue escalation will be the difference between good and great customer service.
Template
Subject: [What is the ticket about?]
Ticket Date: [It will be helpful for employees to see when the ticket was created. This way you can see how long a customer has been waiting.]
Description: [Give enough information that anyone reading will understand. Are there any personal details, exceptions, or previous history that would be worth writing down?]
Priority: Low/High [This will help you to decide which order to resolve issues in.]
Order ID: [This is useful if the issue is regarding a particular product/service.]
Issue Type: [Sum it up in as few words as possible so it can be categorized.]
Agent Assigned: [Who was/is working on this ticket?]
Status: Open/Closed [Has the issue been solved? Or is the investigation still underway?]
3. Email template
As a customer, having a pressing issue that cannot be solved without an email to a support team is frustrating stuff. But it's made so much worse when the response you receive is lifeless. Customer service is everything, and we need to target them on their chosen platform. 54% of users opt for email assistance, making it the top channel for communication. We'd say it's pretty important that it's done right.
When your team responds, they will need to establish optimal support to keep everyone happy. Documenting how they can achieve this will ensure it's done to your expectations every time. Detail the process, which should include:
Provide an explanation and context if they can.
Acknowledge the experience, positive or negative.
Use both the customer's name and their own. Humanizing their support, rather than just using the company name, will make a world of difference.
Speak with authority.
Have the issue and any previous communications with the customer handy.
Set up notifications so they can respond as quickly as possible.
Sometimes we do not have the time to handle emails personally, but you can save your relationships with decent documentation. Being aware of questions likely to be asked, attaching a link to your knowledge base, and giving your copy as much personality as possible are all practices to consider.
Template
Subject: We're on it!
Hey there, [Use customer's name if you are able.]
We're sorry for the wait, but thank you so much for being patient with us! We really appreciate it. We're reaching out to let you know that our dedicated team is working on your query as we speak.
We know sometimes you need an answer ASAP, and while we're doing everything we can, we can't always keep up. Attached below is our knowledge base. We hope you can find some answers there in the meantime.
Speak to you soon. Hopefully, you will still have a positive experience with us.
Sincerely,
Your Name [While you can put your company here, we recommend using a team member's name to make it sound more personal.]
4. Knowledge base article template
Knowledge base articles are a pillar of your help desk. An external base helps customers to find frequently asked questions (FAQs), descriptions of products and services, how-to guides, and new features. But articles can also be valuable for employees. They can:
Create a cohesive workflow.
Document solutions for future use.
The customer sees that every employee has authority.
Give your employees tips that lead to better performance.
Provide editable and customizable information. Each staff member can update the content, making sure it's fresh and up-to-date.
You'll want to keep your articles as short and sweet as possible. Their purpose is to inform, not entertain. This doesn't mean they can't be engaging, but avoid writing a whole lot of nothing. Images are a must, though. Some people learn much faster with visuals.
Configure them in a way that makes sense and is easy to find. Imagine how annoyed you'd be if you spent time on an article to find out someone had already published one on the same topic. Wouldn't be fun, would it?
It's worth noting that knowledge base software is out there, and you can utilize their expertise. You can find an example on our page, HelpCenter.io. Go on, you're already here. So you might as well check it out.
Our template comes with a brilliant article editor so you can rest easy about formatting, media support, and internal linking. Alongside that, we'll leave you with this template to get the ball rolling.
Template
Title: [Short and descriptive. For example, "How to use this new feature." Try to use keywords.]
Topic: [More detail into what the article's purpose is.]
Definitions: [Any jargon or other terms that are relevant to the topic?]
Definition 1:
Definition 2:
Definition 3:
And continue.
How-to guide: [This type of article requires steps. Keep these as simple as possible.]
Step 1:
Step 2:
Step 3:
And continue.
Further Tips: [Employees may have advice on the topic and should add it here for future use.]
Outcome: [Tell readers what they should expect to be left with by the time they are finished with the steps.]
Example: [Can you include an image of what the end result should look like? Maybe someone can create a video tutorial?]
Related Sources: [You can still link within the article, but putting key information/other articles here will save employees time.]
Link 1:
Link 2:
Link 3:
And continue.
Final thoughts
Customer expectations are constantly accelerating, and you've got to keep up with them. Are you prepared to tend to them 24/7? Hopefully, after reading this, you can say yes. You can sit back, relax, and know that we've got you covered.
Documentation should always be a part of your overall help strategy. If there is any confusion, your story is going to be told differently by each employee. This isn't attractive to customers; they don't want to buy from a big, tangled mess.
Your company will see the rewards when you invest in a support process that is united and streamlined. Take another look at our free templates and give your audience what they want.