Release Note: Level up your help center analytics, set up custom redirects, and more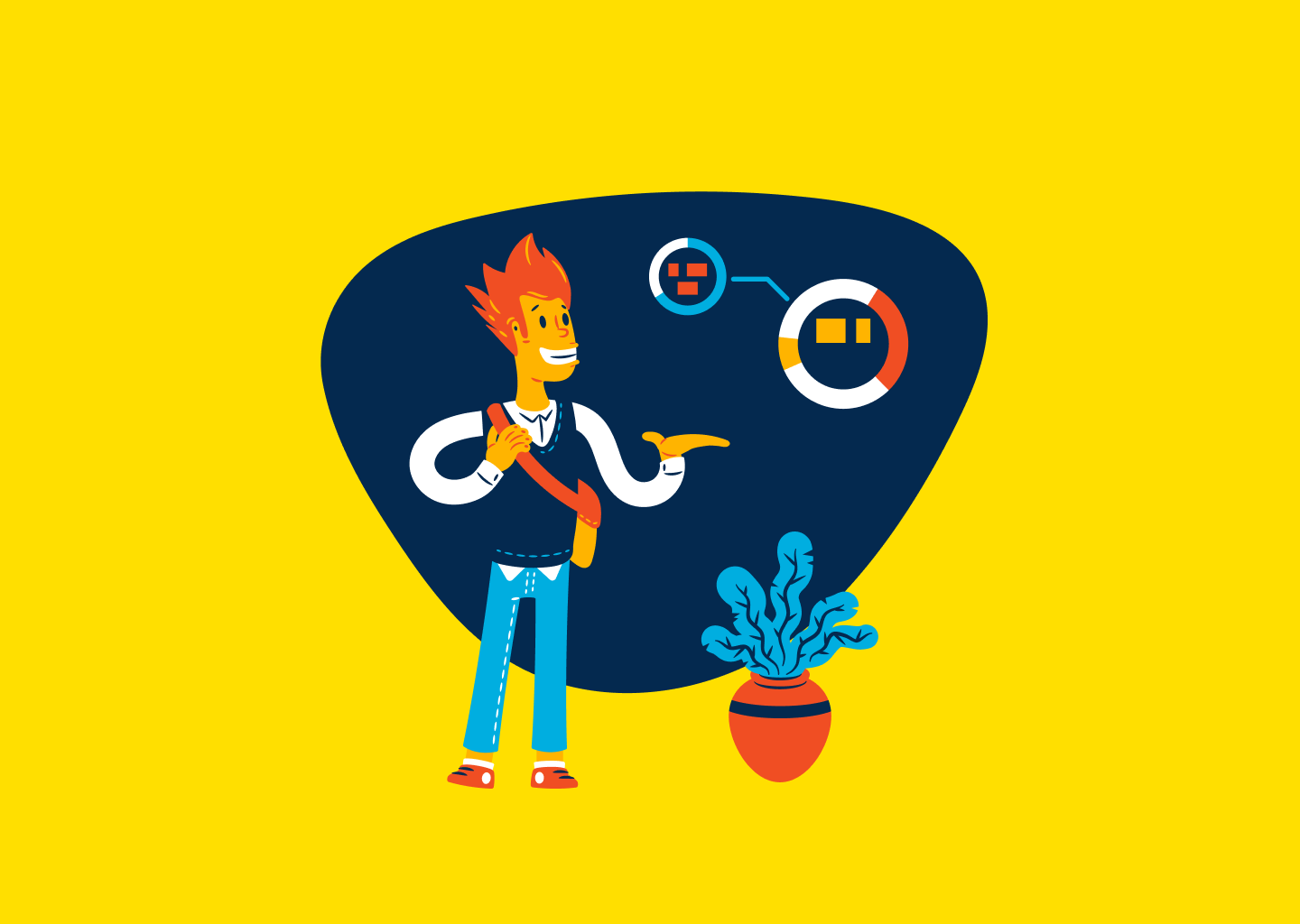 We understand that the ability to collect enough information about how well your help center is doing is of utmost importance for you to keep the measure and improve cycle going. Thus speaking, apart from having a great text editor, the stats page of your help center dashboard could be the single most critical part for your content to get better and more effective over time.
After an initial public beta testing period, we are happy to announce the new stats page in your HelpCenter.io dashboard officially.
Apart from the stats, amongst all recent HelpCenter.io updates, you will also find:
support for creating custom redirects;
better automatic generation of the article slug;
an API in private beta;
and integration with Crowdin so you can effortlessly organize and manage your multi-lingual help center content.
Here's our usual quick overview of everything briefly mentioned above.
The stats upgrade
The stats are the place to gain insight into what parts of your help center work well and what doesn't. Which is the most popular article? What do people search for in your knowledge base? And do they frequently find precisely the information they need, or does their search often turn into an unsuccessful and frustrating quest that leads them to your customer support team or (even worse) to a competitor of yours? Our new, improved stats will help you escape from the latter scenario if you have a help center hosted with us. Here's how.
First, the new stats UI provides many more options to gain insight into your content. You can find the best and worst-performing articles, create more like the best ones, and adjust or remove those that don't do their job well.
Unlike before, where you could only change the time period on the visitors' chart, now you have the option to adjust the period of all the data displayed between several predefined options based on your current subscription plan.

With the new chart, you can compare the number of total visitors, article views, and search queries and with the metrics below, see how the current period corresponds to the last such period. For example, suppose you have selected "7 days" as a time period, apart from displaying the values of the current period. In that case, the numbers below the chart will also show the difference as a percentage compared to the 7 days before the last 7 days. Of course, if you keep seeing a decline in most of the numbers, something about your help center might not be as helpful as you think.

Once your help center gets enough visitors who take the time to express their opinion by rating your content, you can gain valuable insight from the "Satisfaction Score" metric. It estimates how helpful your content is, based on the ratings people leave.
Your help center in numbers?

The first section of the new stats UI is called "Your help center in numbers" and it is the only thing on this page that is not affected by any available filters.
The section displays five items representing the current status of your help center. These are the total number of categories, published vs. draft articles, how many of your published articles are private, and how many team members in total have you added to your help center so far.
Understand your Satisfaction Score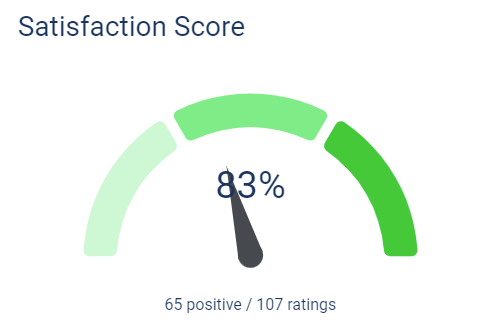 The "Satisfaction Score" metric reflects the feedback on your content. The more positive it is, the higher your "Satisfaction Score" will be. If all you get is love, your satisfaction score will quickly peak to its maximum.
Keeping track of the Satisfaction Score will provide quick insight into how people react to your content. The higher it is, the better.
If your score stays above 50%, you are doing a great job with your content's helpfulness to people. In case you go beyond 100%, people love your content more often than not.
Remember that the satisfaction score depends on your help center articles being frequently rated by your visitors, so if there hasn't been any new rating in the time period selected, the satisfaction score would not be displayed.
What do people search for?
With the help of the new stats UI, you can gain a deeper understanding of what people are looking for in your help center. By frequently checking out the unsuccessful queries, you will know what you could be missing, even more so if you compare the unsuccessful search queries to the most common recent support requests that your customer support team has to deal with.
Not only that but analyzing your search queries could even give you insight into what parts of your product you need to improve and help you prioritize new features that are frequently searched for in your help center. So I would not overstate if I say your help center could even help you build a better product for your customers.
How does your team perform?
Something else new to the stats page is the ability to get information on your team's metrics. How has your help center content evolved in the time period selected, and how many team members contributed to that progress.
Stats filters beyond the date period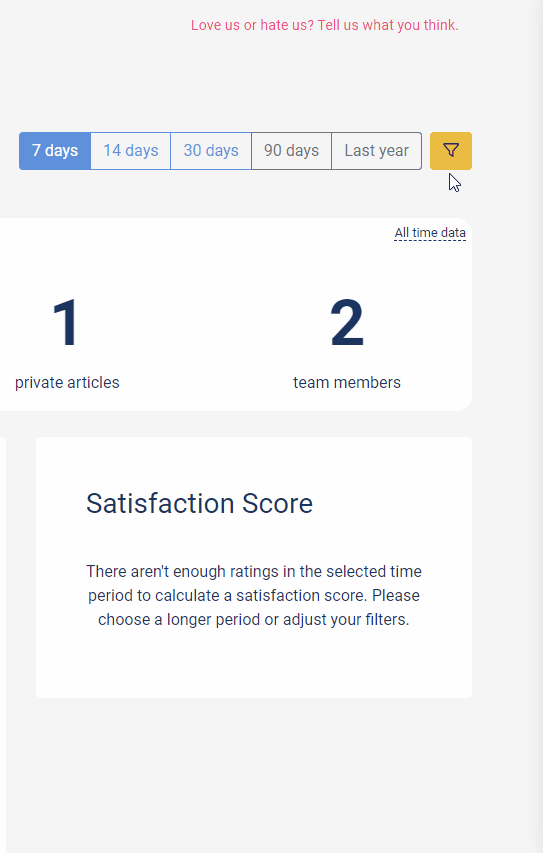 You will also find new ways to filter the data on the stats dashboard. You can open the filters sidebar by clicking on the funnel icon next to the time period selector. Among the first available filters are the option to show stats only for a certain category, to see how your data changes if you include the bot visitors and exclude yourself and/or your team from the data by excluding your IPs. You could expect to see even more ways to adjust and filter the stats data in the upcoming months.
Use it your own way
Among the new features here, I have tried to outline just a few of the cases on how you can use the new stats dashboard to help you build a better help center over time. There are many more options and probably even ones I have never thought of.
Please feel free to reach out to us and share how the new stats page of HelpCenter.io works for you. We would be happy to learn more about your day-to-day use of HelpCenter.io and improve based on your feedback.
Custom redirects
There are many cases when you may want to have on URL of your help center redirect to some other internal URL. For example, if you are migrating your help center from another provider and want to redirect all of the old URLs to the new ones in HelpCenter.io.
For those cases, you can now create custom redirects from the "Setting" page of your help center dashboard, where you will find a new "Custom Redirects" section.
You can use custom redirects to even assemble shorter URLs for some of your most popular articles like help.myapp.io/getting-around leading to the actual help center article to help your users get started.
Improved article slug auto-generation
For the past few months, we have received many complaints about slugs not always being automatically created, articles left without a URL, leading to a 404 page, or the auto-generated slugs not supporting some more specific languages such as Chinese. We tried pushing several times minor fixes which worked for some of the cases but did not for others.
This is why you will now find a completely new automatic slug generation for your articles with all related bugs fixed. It is also language-specific, meaning it would take into account all of the languages of your help center and provide you with better multi-lingual support.
REST API in private beta
The HelpCenter.io API is not exactly new since it is a feature from late 2021. However, we never found the time to publicly announce it even though it has already been available to specific users who have expressed interest.
Our API currently allows you to list your help center articles and categories and update these via HTTP PATCH requests.
At this time, you can request access by reaching out to us, and we will provide you with an API key. The documentation is available in our help center here: https://self.helpcenter.io/api-docs (notice the custom redirect?).
First third-party integration coming from Crowdin
And last but most certainly not least is something I am really happy to see and share with you - it is our first third-party integration.
The release of our public API allowed this one to happen, and we hope to see even more coming in the future. We are all happy to see and announce to you our first third-party integration coming from Crowdin. Crowdin is a cloud-based solution that would help you manage and collaborate on all of your multi-lingual content in one place.
By integrating between HelpCenter.io and Crowdin you can easily manage your help center content from Crowdin alongside your other localized content.
Stay tuned for more
These were the major things released in the last few months on HelpCenter.io. You could expect even more exciting stuff coming up in the (not so distant) future, so stay tuned and keep making your help centers better and better.