Our knowledge base template got open-sourced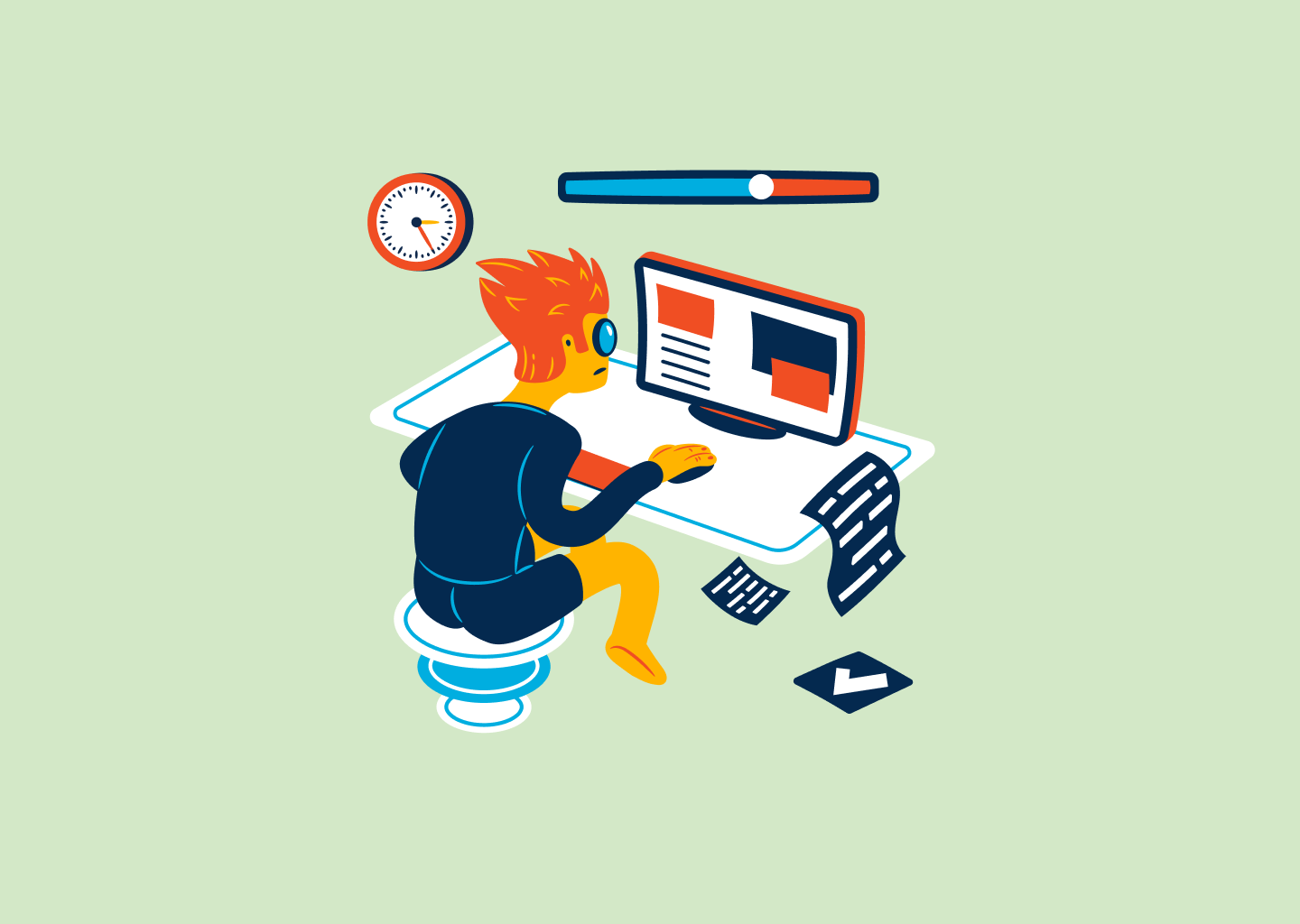 Self-service customer support could be the future of customer support and every self-respecting business should give their customers an option to find the help that they need by themselves before having to reach out to the support team.
You can really build an amazing knowledge base in just a few minutes and start writing content with HelpCenter.io. However, for the cases where HelpCenter.io might not suit you well, we have decided to let you build an amazing help center by yourself by giving you the basis for free.
Meet KnowledgeBase.dev. The free open-source knowledge base template for your great help center.
What is KnowledgeBase.dev?
In a gist, knowledgebase.dev is the base help center template you are going to find in HelpCenter.io but open-sourced on GitHub and available for free to everybody under the GPL-3.0 license. You can improve it, adjust it to your needs, adapt it for whatever system you work with or only use the components that you find useful. It's completely up to you!
By open-sourcing our help center template we are striving to help you build a better knowledge base and level-up your customer support regardless of your decision to use HelpCenter.io and work with us or not. Also, we are giving every developer the opportunity to make this knowledge base template better. Feel free to contribute on GitHub with new pages, new components, new variations of stuff and in case you feel too adventurous, Fork and create your own version of it. Whatever you wish.
And for the ones that still go with HelpCenter.io, having the source code of our base template will give you a greater understanding of what's going on behind the scenes and allow you to easily customize it according to your needs using the built-in HelpCenter.io template customizer or with custom CSS and/or HTML blocks.
What does it look like?
Why not see for yourself? Go to knowledgebase.dev and find out what our free open-source help center template looks like. It's based on Bootstrap 4 with Bootstrap 5 version being in development. Here's just a quick sneak peak.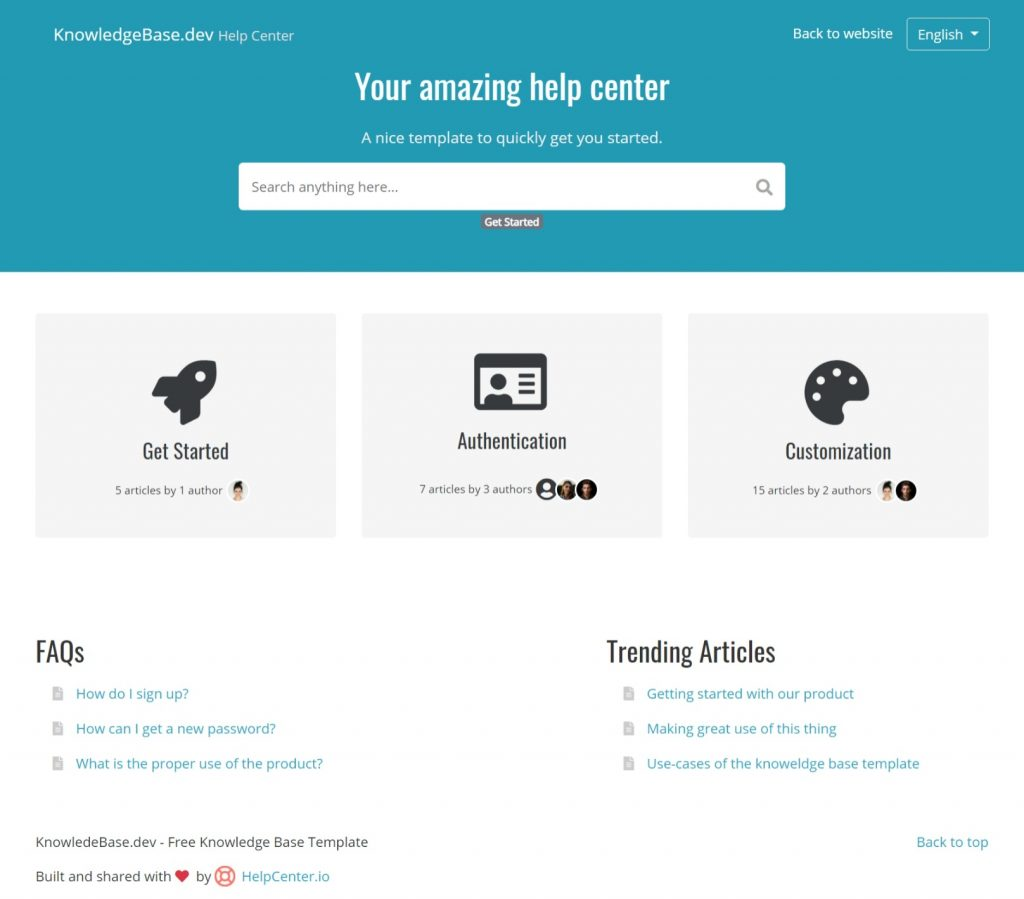 What this means for you?
If you are an existing HelpCenter.io customer or if you are planning to become one, you and your team can easily contribute any changes you've done to the default help center template to the open source knowledgebase.dev template and at some point they could become part of the default. This way you can be actively involved in the maintenance and improvements of the knowledge base template you are using and why not even spawn a completely new version of it and give even more to the open source world.
If you don't plan on becoming a HelpCenter.io customer, the knowledgebase.dev template will help you build your help center more quickly as you will have at least something to start with. And by contributing you are going to help countless of businesses and developers around the world build a great knowledge base without having to worry where to start and what it should look like.
Can I make a WordPress template using knowledgebase.dev?
Yes, and we are also going to link the most prominent open-source projects that have used the knowledgebase.dev template on its official website so make sure you drop us a note and show us what've done.
Why give your help center template for free?
We have started with the belief that everybody should have the option to build a great self-service help center and that's why our pricing was so low at the beginning. Why not free, you can read here.
However, some things change and you have to adjust, thus our pricing went up a bit in the past 2 years. Still, the initial goal hasn't changed. We want to make it at least a little bit easier for every business to have their own help center which will both make customers and support teams happier. One way to do this is to give our knowledge base template for free. We've already had it, it wouldn't cost us anything to put it out there but it can certainly help somebody kick-start their knowledge base even without HelpCenter.io. That's why we are doing it.
Why would I want to use HelpCenter.io now that I have your template?
The template is just a small part of what HelpCenter.io has to offer you. And if you can afford, it would certainly be worth it. So give it a try and decide for yourself. Try the nice content editor or the visual template customizer to adjust the template however you want it. And on top of everything you get detailed stats tracking so you can quickly grasp what works in your support center and what doesn't and adjust accordingly.
In the end, if you are still not convinced, you can always tell us how we can do better or now just start from scratch. Or why not even both?
Enjoy building your knowledge base whichever path you take!