SaaS Knowledge Base: 10 Best Practices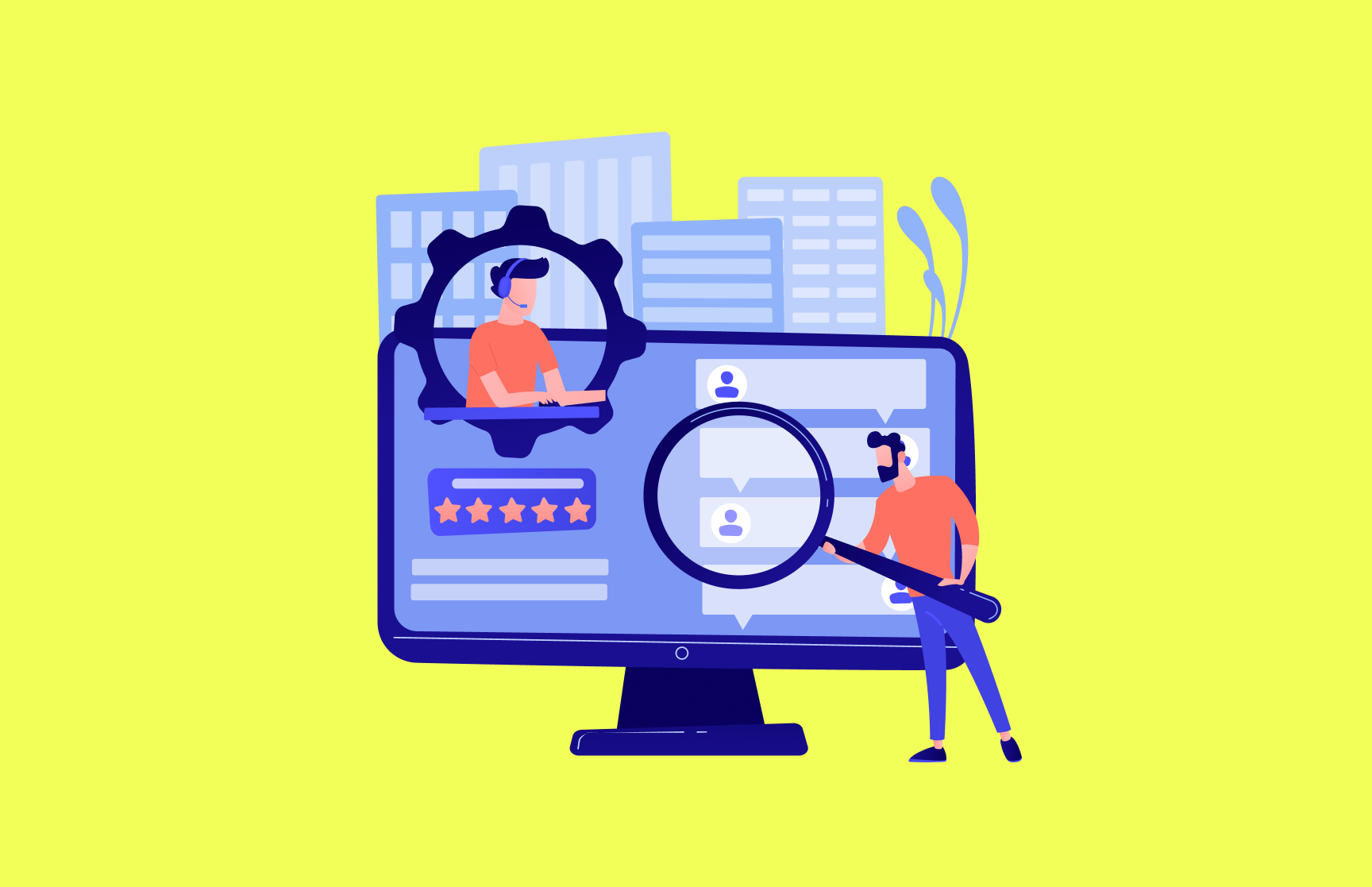 As a company, you're inevitably going to come across someone who has a problem with your product or service. This isn't because you're doing a poor job; it's natural.
The customer doesn't judge you by the issue they're facing. They'll judge you depending on how you deal with it. That's why a frequently asked questions (FAQ) page isn't going to cut it. It's time you committed to a knowledge base: the hub of advice, articles, and tutorials unique to your products or services and the company itself.
The basics
A study showed that 67% of users prefer self-service over human contact. It also showed that 40% of customers tried to find answers online before using a call center. It makes sense; having a system where they can help themselves resolve an issue will make your customers happy.
Why else should you invest in a knowledge base?
Prove authority in your industry.
Monitor flaws in your products and services.
Keep customers around for longer and decrease churn.
Increase customer success.
Build connections between employees and your company.
Creating a knowledge base structure isn't for everyone. That's where Software as a Service (SaaS) comes in. SaaS is when a third party maintains and manages the cloud-based software for you to use. Once subscribed, you can access the solution over the internet.
Using a SaaS platform is easier than doing the work yourself. But why else should you bother?
Since a provider carries out updates, you don't have to worry about installing new software.
Developing your own software costs a pretty penny. You avoid licensing, installing, and distribution fees, making SaaS a more affordable alternative.
SaaS is pay-as-you-go, and you only pay for what you use. That means no scary investment looming over you.
Without worrying about software, your team can focus their attention on the customer, improving user experience.
The market for SaaS is predicted to reach 716.52 billion US dollars by 2028. And why wouldn't it? Accessing software over the internet is a no-brainer for us.
But we will make it even more simple by telling you our best practices for a SaaS knowledge base, what you need to know before you start, and showing you some examples of what works well.
Understand what you need
Some people might commit to the first solution they find when conducting a Google search. But we know better than that. Different platforms offer benefits and packages that others don't. Some might work for you, and some might not.
When focusing on customer satisfaction, you'll want an external knowledge base. However, some solutions offer internal options as a part of their package, which has other advantages. To decide what you may need, you'll need to know about:
Self-service knowledge bases. This is an external type and is primarily used to offer solutions and advice to customers.
Internal knowledge bases. These are only available to those inside the company, such as you and your employees. They help make sure everyone on your team is very well informed about your brand and has all the information they might require in one place. Ideal for easy onboarding.
Open-source knowledge base. These are openly available to the public but much more customizable and flexible. If you are concerned about accessibility or feel as though your page needs particular features, this could be the one for you. Our free template is now open-sourced.
You need a customer knowledge base. Trust us. But it makes sense to think about other areas you'd like to focus on. An internal knowledge base is ideal for educating your employees and giving them the information to help customers. If you feel as though you would gain something from both, this might impact which solution you need.
Choose the right solution
Let's say you start searching for knowledge base software and find yourself confronted by pages of links. It's going to feel overwhelming. The important thing is that any decision you make is informed.
There is a lot to consider when choosing which solution is the one for you. Be confident in their reliability, credibility, and accessibility before you commit to anything. If they offer a free trial, do this first to make sure their service meets your business expectations.
Ask other companies and post in forums to see if anyone has any advice for you. Weigh up the pros and cons for each. As with any business, they will have a USP, and one will likely be more useful to you than another. Finally, be critical.
We know investing in a solution is a huge weight on your shoulders and we won't lie, it is a big decision. But there is no wrong answer here. The right solution will simply add value to what you do already.
Here are our recommendations for the best SaaS knowledge base solutions that will give you the result you're looking for.
We'll start with our own solution as it provides you with everything you need to build your perfect knowledge base. Our pricing starts from $29 per month on an annual basis. This includes a fully customizable template and hands-on support to guide you through the harder bits. Every subscription plan comes with a free trial, so you can make a more informed decision.
Tools like a robust article editor will make building and maintaining your content a breeze. Our AI widget will help your customers before they've even contemplated reaching out to your support team. Smart insights, a dynamic appearance, and features that could cost hundreds more with other providers all work together to give your overall customer experience a substantial boost.
This solution is a brilliant option because they offer a subscription service ranging from free to $399 per month. With the free version containing a public knowledge base for you to use, this platform works for any budget and would be perfect for startups.
You can customize the branding and navigation whilst also having access to templates like the article builder. Ideally, your SaaS provider will give you creative freedom. You don't want someone who doesn't understand your company to have more control over how it looks than you do.
They offer adjustability to a user's chosen screen, which gives it the accessibility we were looking for.
Finally, the platform has an analytics tool so you can learn where your traffic is coming from and how customers interact with you.
Zendesk is another worthy mention. The solution starts at $49 per month, and you can access a free trial for peace of mind.
The SaaS product is also highly customizable, but comes with a range of useful features built-in. For instance, you can add self-service chatbots to make management easier. This includes interactive messaging that is personal to the customer.
You can also integrate other applications, such as Google Analytics, to ensure you've always got a full picture of how your knowledge base is performing.
Next up, we have HubSpot. The reason this is a more affordable choice is that you can start with free tools and then upgrade as needed. This is useful for big or small businesses. Prices increase from $45 per month for a starter subscription to $1,200 for an enterprise upgrade.
There is a section for customer feedback, which helps you to continuously improve. The solution also tracks content performance, which helps you achieve that much-needed high bounce rate.
Once again, it promises customization. This means you can set up links, so your knowledge base also has SEO capabilities.
Know your customer
When it comes to creating content and offering the right features, the best advice we can offer you is to know the audience you are targeting. Having a good knowledge base is an effective way to show that you know your customer enough to provide what they need.
An unbelievable 93% of consumers reported that they would make repeat purchases if a company had excellent customer service. Offering efficient support is key to building retention, user experience, and revenue.
A customer knowledge base is self-service. That means users can find what they need on their own. To do this successfully, you need to know what their FAQs are likely to be, what other advice they might search for, and how they digest information. This will vary depending on your product or service and your target demographic.
Let's look at an example. Netflix utilizes customer data to run an effective knowledge base by predicting what users will be looking for.
For the account owner, three articles are recommended for their specific needs. The account above is on a family plan, so Netflix suggested an article about parental controls. It also has multiple users, so keeping the account secure is likely a concern for the bill-payer. These educated guesses lead to happy customers.
You can do the same by:
Sending personalized surveys to your consumers.
Creating a detailed customer profile. Take into account geographical location, demographics, psychographics, and buying habits.
Host a focus group. Bring a variety of consumers together and find out what they have in common and their experience with you.
Use what you know to make priorities in your knowledge base. Everything should revolve around helping them in a user-friendly and accessible way. There is no point in throwing out content consumers don't want or need.
Think about accessibility
There is nothing more frustrating than scrolling through a company's knowledge base only to discover that it can't help you and you have to phone for advice anyway. If you cannot meet your customer's needs, they won't use your service again.
75% of Americans with disabilities report using the internet daily. As businesses, we need to forget the idea that all users are the same. They're not. They have different needs, and these should not be ignored.
Slack is an example of a SaaS knowledge base that works for everyone. Though their page does have bright illustrations, they are placed to the side and do not distract from the whole blog. The background is white, and the text is black. You can zoom in, and important text is in bold to make it stand out.
Knowledge bases aren't easy for everyone to navigate. But there are several ideas you can implement to increase functionality.
Use alt text (alternative text) to describe an image on your page.
Include content localization. You can adapt and translate content to be understood in other countries. Also, you can integrate cultural contexts as you would in your primary market.
Keep it easy to read. Only use jargon if you also explain what it means.
Use dark text on a light background. Reading can be difficult if a page is in certain color combinations, such as green and red.
Use larger fonts that can be zoomed into.
Write clear articles
Here is where it's left up to you. You and your team are the experts of your company, which is very fortunate because knowledge base content is very important.
You need to write in a way that strips information down to its bare bones, which is probably not how you're used to writing. At the same time, it's got to be engaging enough that customers will read to the end. And to top it all off, you've got a whole lot of ground to cover.
It doesn't sound easy, but it's doable when you know what you're doing. Here is some advice on how to make the most of your content.
Each of your knowledge base articles should cover one topic and offer a solution (or multiple) to that problem. Trying to include too much will only confuse the customer.
Split articles into relevant folders to make them easier to find.
Product documentation is crucial. Include any uses that you don't think are utilized enough and promote new features.
Keep your writing as streamlined as possible. Remember, your customers are looking for help and are probably frustrated.
You could widen your audience by including content that is generally helpful in your industry. This will bring new customers to your page by building traffic.
Your articles and how you present them will be the building blocks of your knowledge base. You can use traffic metrics and feedback to determine how well they work for your customers.
Distribute your content
Writing amazing and helpful articles is great. But isn't it a shame that users can only find it through widgets or links on your website? If done right, your content is going to be useful to more than just your existing customers. Time to get it out there. How can you promote them beyond your knowledge base?
Post video tutorials across your social media channels. The content will be engaging for your followers, and it will also encourage them to search for you.
Some people might need your help but don't know where you are. Post links to your help content on platforms like Wiki, Quora, and Reddit.
Use SEO in your articles so that they rank higher on search engines. This will help them be found organically.
Use a title that describes exactly what you're writing about. This makes it a lot more clickable.
There are users out there frantically trying to fix a problem, and they are a whole new audience for you to attract. There's no point in waiting for them to come to you. Reach out to them, and they will see your value.
Optimize videos
Written information is always going to be important, but some things are hard to put into words. Some customers just prefer visual learning. Let's face it. Sometimes reading is boring. Try and switch things up by using video content.
Helpjuice is a software company that, as expected, has some great video tutorials. A topic such as "What is a Knowledge Base" may only provide enough content for a short and uninteresting article. By turning it into a video, it not only feels more personal but also more interesting for a customer.
Other topics like the "15 min Helpjuice Demo" is more difficult to put into words. There is a lot to say, and you run the risk as a writer of overcomplicating the content. This isn't going to go down well with your customer, who is trying to get to grips with your service.
Videos put across information quickly. By doing this, you save customers' time, which they are going to be grateful for. Having a pleasant experience with your company will bring them running back.
Utilize the tools you've got
SaaS companies have to compete for your affection. The way they do this is by offering in-app knowledge base tools that will boost your customer success. Don't overlook what they can offer you. Let's dive into some of the features you should be looking out for:
Search feature: don't take this one for granted. Having a good search function can make your company stand out from its competitors. Use a solution that makes the search bar as visible as possible and lets users enter words directly instead of just using filters.
Widgets: some solutions offer a widget, which means you can interactively display certain information. You can choose what is displayed. If you've found certain articles that drive more engagement, put these here.
Automation: SaaS services can automatically answer repetitive customer questions to save you time, run analytics to reduce human error, and manage your support tickets. Your support agents will also be pleased with the time you've saved them.
Let's look at Spotify's SaaS knowledge base. At the top, a widget can be seen. The company considered the context of the time of year and assumed most users would have questions about their "Wrapped".
They overcame issues with wait times by prompting users to find the answer elsewhere in their content. The best knowledge base is a clever one, that uses everything at your disposal to help things run smoothly.
Track your success
Making content while guessing what needs to be improved is like shooting an arrow at a target in a pitch-black room . With a blindfold on. You're not going to see the result you want, and you're probably going to do more damage than you realise.
It can be difficult to figure out how you're performing. You need insights to compare with and an understanding of what this means for you.
But where do you look for this? Customers don't always voice their upset, so you have to go and find it yourself. Here are some of the best metrics to do just that:
Top visited articles. This will tell you what information customers are seeking out and finding the most useful. Analyze this content and find out what you should focus on to do even better.
Conversions resolved through your support team. If they had to reach out, your content is either not thorough enough, or there is a gap somewhere.
Use the solution's analytics to see if you've had an increase in traffic and page visits. This is a tell-tale sign that you're doing something right.
Feedback. Probably the simplest way to identify what needs troubleshooting. Do this through emails, surveys, or social media.
You're never going to be done with your knowledge base. There will always be something that can be done better or redone in a way that brings in more customers. Grow from every step, and you'll have customer support that matches up to your competition.
Always update
Updating your content goes hand in hand with tracking your success. You'll feel stagnant to customers if your most recent article is from years ago, and they are much less likely to trust it too. They will find fresher information on the same topic elsewhere.
You probably focus on how to make your future content better when you think about knowledge management. It's important not to let your old content die out in the plains of the internet. Remember, customers will use these resources time and time again. There are many reasons you should update your work, such as:
You can update with any new information or trends that come around. This will keep you as a top source for users.
Out-of-date content will ruin your reputation. Your work might've been accurate when you wrote it, but times change.
If you've used links, chances are they will break over time. Not only will this irritate customers, but it will also lose you traffic.
How often you update is up to you. It will depend on how much you put out there. Some sites suggest once to three times a week. The best practice is to update when you need to. When you learn something new, or information changes, or when data needs a refresh.
Conclusion
There are many knowledge base solutions out there to choose from. Their software expertise, combined with your industry knowledge and with our practices in mind, will not only draw in customers but keep them around for a long time.
A good company is more than what they produce. They are made up of how much they care about their customers. The most effective way to prove you value them? Help them every step of the way. If you're genuine, they will know it.