Customer Education Best Practices: A Guide to Get You Started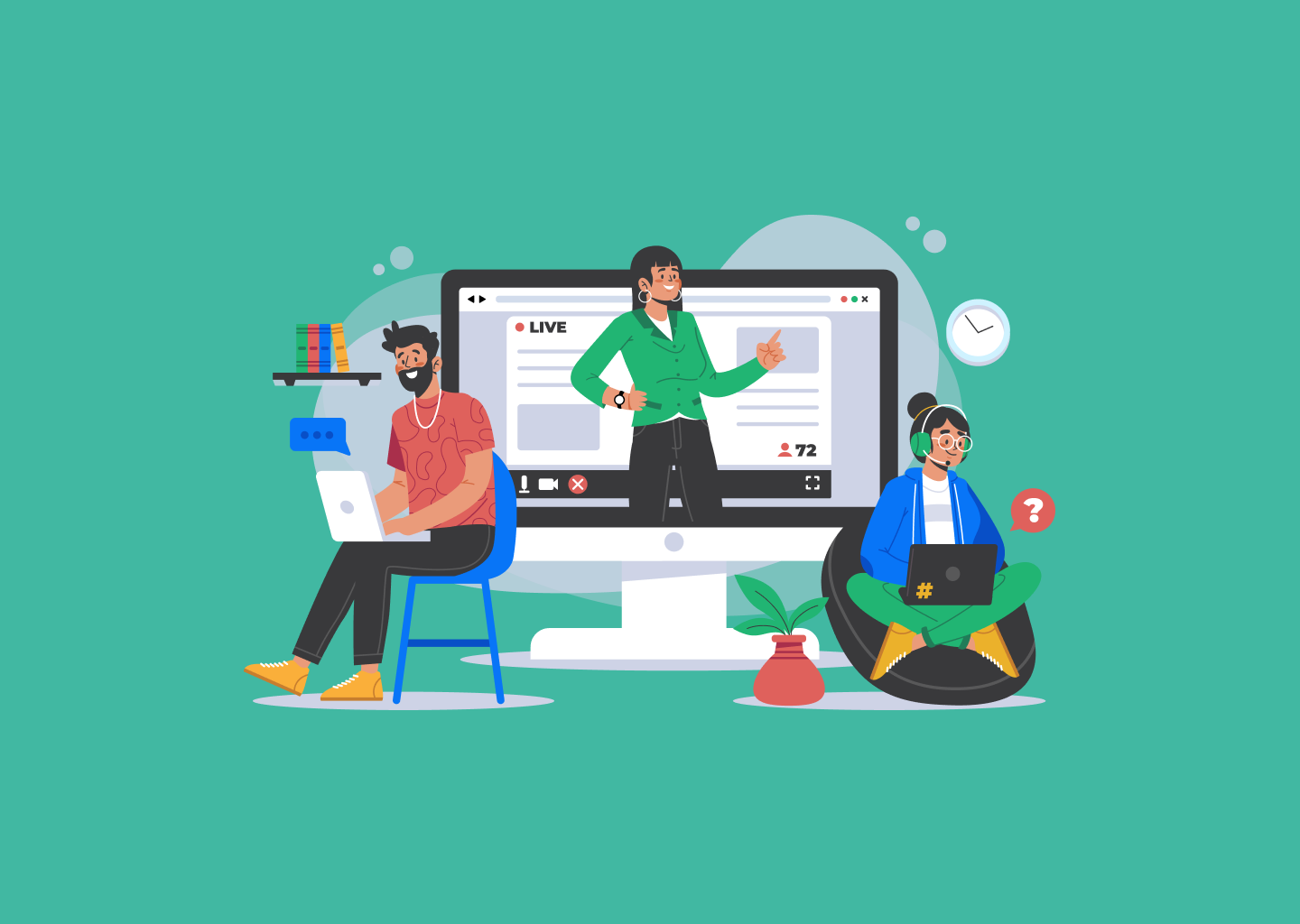 You may be thinking once you've secured a customer, the hard work stops there. However, the reality is far from that. You need to prevent customers from feeling confused and alienated when trying to use your service or product. This is why customer education should be at the forefront of your business.
To ensure you have the best possible customer satisfaction, retention, and loyalty, you'll need to invest your time and effort. Supporting customers during the whole of their lifecycle is essential, rather than focusing only on conversions.
To help you do this, we're going to explore customer education best practices, from clear onboarding strategies to interactive customer training. We'll also take a look at some examples of successful programs to help inspire your own.
What is customer education?
Customer education refers to an onboarding process that allows new customers to realize the value of your product or service. Simply put, you need to support people in purchasing your product.
This is usually divided into three main stages:
Onboarding: This is a vital stage of the customer journey. Here you will want to focus on introductory tutorials and the basic functionality of the product or service.
Adoption: Now you have them on board, introduce more in-depth training programs.
Optimization: Here, you can use quizzes with certificates to reward successful customers in specific areas.
This can mean having a vast knowledge base so customers can answer their questions on demand or configuring a smart widget to offer interactive support. However, it can also refer to extensive customer training programs for more complex businesses. It will depend on your business type, your desired audience, and your product or service.
Customer education can be a great alternative to a somewhat outdated customer service model. So if you haven't already got a system, maybe it's time to build one. Lucky for you, we've got all the best customer education practices.
Who needs to implement customer education?
Any business can provide educational content for its customers. However, if your service or product is particularly complex, you should definitely have a customer onboarding strategy.
All businesses will benefit from this as consumers are 131% more likely to buy from a brand immediately after they consume early-stage, educational content. This goes to show just how valuable this kind of strategy can be.
But how do you execute it? And what do your customers need to learn? This is the tricky bit, which takes plenty of thought and planning. To help gauge the purpose of customer education, let's look at some examples.
Examples of customer education
Let's start with a simple example. How often have you bought a piece of self-assembly furniture and realized there is no way you will be able to put it together with only a flimsy and confusing instruction booklet? It's one of the most frustrating feelings, and I know I've sworn off ever using certain companies again because of the lack of support after a purchase.
So, take a look at Ikea's answer to this problem:
https://www.youtube.com/watch?v=Ic-YmvIi9oE
Their YouTube channel is full of incredibly simple and easy-to-understand instruction videos to ensure you don't feel isolated or frustrated after your purchase. This is a classic example of customer education. Video content is a great opportunity to connect with your customers in an engaging and information-packed way.
Let's look at a slightly more complex example. Shopify is a company that helps people set up their own eCommerce business. This huge task takes a lot of diverse expertise and skills. However, Shopify promises to help you build your business from the ground up. This means customer education is a central pillar of the company.
You can see above what Shopify offers in terms of customer education, and they've pretty much covered all bases. They have a help center to encourage independent learning, online courses to take part in during your spare time, a blog for informative articles, and a community element to encourage customers to take part. It's no wonder that in 2021 Shopify's monthly learners' usage increased by 491%.
Best practices
So now you know what customer education is and have explored some examples, you need to know what makes a good program. Our list of best practices should give you a good understanding of what goes into a customer education strategy and how to improve your customers' learning experience.
Blended training content
To keep your customer engagement high, you'll need to ensure your content is diverse and interesting. Having pages and pages of FAQs or one 3-hour-long video explaining everything about your product is no use. If this is your current technique, it may be affecting your customer retention.
Instead, you need to provide different ways of learning. For obvious reasons, eLearning is the go-to, but don't be afraid to encourage some in-person training days. It'll create a sense of community among your customers, subsequently making their progress more significant. Your company will also begin to feel like a tangible thing that cares rather than just an online bot. This will help build trust in your brand.
However, this won't suit all companies. But don't worry. Most customer education programs stick to online learning and can be just as effective if done correctly. If you're strictly online, you need to keep your audience engaged. This means changing up the formats of your educational content. Consider using the following:
Webinars (live or pre-recorded)
Online courses
Live demos
Onboarding emails
Online documents (tips and tricks, FAQs)
Blogs
User-generated content
Case studies

Have a knowledge base
The last thing customers want when they have a simple question is to stay on hold to customer service for an hour or talk to a glitching chatbot. People want to be independent in their learning. It's likely that people will be taking part in your educational content at all hours of the day, especially if you're an international company, so live customer service may not always be available.
Having a knowledge base or help center means your customers can enjoy finding information on their own. It also eliminates the risk of the wrong information being mislaid because there's little human error to account for. On top of that, it doesn't require as big a budget as full-time interactive customer service, and it's much easier to manage and update.
However, It can take a long time to set up a new help center, so consider using a service that will do it for you. We happen to do just that. Handy, hey? We can move your existing knowledge base to HelpCenter.io in just a few days so you can benefit from our superior customer support and a knowledge base template ready to become your own. If you're not convinced, check out how it'll improve your customer happiness. If you want to test the waters before committing, try our 14-day free trial and see if it's for you.
Pay attention to your metrics
There's no point in having a customer education program if you don't know if it's useful. How will you know if it's addressing your customers' needs? Or whether your customer support team are addressing pain points effectively?
Achieving your business goals should never be a guessing game. So pay attention to the following metrics:
Customer satisfaction: Why not ask them if they find it useful? Smart widgets can ask customers whether they found certain elements of your program useful or not.
Certificates awarded: By monitoring this, you'll be able to see the rate of course completion. This will give you a good insight into whether your content is engaging enough for people to see it through and whether it's informative enough for customers to complete it.
Net promoter score: By asking your customers how likely they are to recommend your product or service to a friend on a scale of 1-10, you'll be able to measure how many promoters (those scoring 9-10) you have.
Our analytics feature lets you easily compare all the needed stats over time. Whether you want to check your stats from the last 7 days or 90 days, you can observe trends and patterns, clarifying what features are working and what are not.
There are plenty of other metrics and insights to keep an eye on, but these are the key ones. Check out the graph below from a 2022 report to see what most companies are paying attention to.
Include completion times
Customers want to be able to complete training courses, quizzes and reading at their own pace. People are unlikely to begin a task if they don't know how much time to put aside. It sounds like a simple practice, but it can affect your course completion rates if overlooked.
Your customers want to feel understood and respected. They may believe you don't value their time without informing them of completion times.
Let's take a look at the LinkedIn assessments, for example.
We are told explicitly how many questions there are and how long you get per question. So we know it will take, at most, 23 minutes. It also provides an incentive for completion similar to a certificate, which leads us to the next point.
Provide incentives to encourage participation
Depending on the complexity, you'll want to ensure customers complete the necessary training modules to understand the true value of your product. To encourage people to do so, you'll need incentives or rewards for customer success. This shows that you respect their time and effort and builds more trust between the consumer and the company.
Incentive ideas:
Continuing education credits
Points based system
Certificates
Badges
Status change (novice, expert, master ETC)
Content quality
Valuable information
Providing incentives in the form of certificates and badges should also encourage people to sign up for your service because of the status that can come with it. For example, an employer may be impressed if you're considered a subject matter expert within their industry.
Another benefit of incentives is customer loyalty. If they have a tie to your company in the form of a certificate, they are less likely to churn. Loyalty is the final aspect of the customer lifecycle, so you'll want to pay close attention to ways you can improve this element to prevent churn and encourage subscription renewals.
Check out HubSpot's Customer Experience Lifecycle Map. It's a great way of visualizing the customer journey.
Easy-to-use and customizable platform
Your learning management system should be simple, clear, and fun. If your system is made up of dense, text-heavy articles and hundreds of links, the chances are the customers aren't going to take part.
In order to increase your customer satisfaction, your platform needs to encourage your customer base to participate. To do this, you'll need to choose a platform that allows you to create the features you desire that are specific to your audience.
Our customizable knowledge base template means you can assemble exactly the help center that you need without worrying about layout or editing. It is a complete no-code solution. Basically, we take care of all the tricky bits. And if there is something we did not account for, our support team is there to help with the full customization of your knowledge content.
Define your business goals
There is no one-size-fits-all approach to customer education. It all depends on your desired business outcomes. Maybe product adoption is your sole focus because getting to grips with your concept can take some work. Or maybe, it's all about loyalty and returning customers. Whatever you want to focus on, make sure you decide before you begin building your program.
To do this, you'll need to know your audience well. You'll then be able to make decisions based on what your ideal customer would like. A good exercise for this is creating a buyer persona. Through this, you can explore the following questions:
What industry do they work in?
What kind of salary are they on?
What beliefs do they hold?
How old are they?
Where do they live?
Do they have a family?
Once you have answered these, you can build a clear image of your customer base. Now, build your platform with that buyer persona in mind. For example, use case studies they can relate to, create a self-paced program that accommodates the amount of spare time they are likely to have and customize it visually to their niche.
A clear understanding of your audience can focus your business goals. This will increase not only your company's efficiency but also your customers'.
Email communication
We've all experienced it. We start a new course, and we get excited, promising to complete it to the end. But life gets in the way. And that's human nature. We're forgetful. But you want to try and prevent your learners from forgetting.
You'll likely see customers starting a course or a new area of your education program and never returning to it. Rather than accepting defeat, send a friendly reminder. Now, it's important not to hassle the customer, as it's possible they didn't enjoy the content and actively chose to stop. But a simple email letting them know they haven't completed the course yet won't go amiss.
This can also help people feel supported. Maybe they needed a little encouragement, and your email was just that. Other scenarios could include a little congratulatory email when they complete an element of the program and a brief summary of what's to come, just to keep them ticking over.
Conclusion
If you stick to these best practices, you'll notice an increase in engagement and customer retention in no time. So what are you waiting for? A knowledge base or help center is a great go-to if you don't know where to start.
It'll help you visualize all of the information you want to impart to your customers, it's a must-have for customer education, and it'll take the pressure off your customer service team.
We decided to open-source our help center template so you can get started straight away. For free. That's right! However, if you want to benefit from all of our unique features, try signing up for a 14-day free trial and see how we can make the whole knowledge base building process easier for you.
Have you recently implemented a custom education program? What practices have you found most helpful? Let us know in the comments!